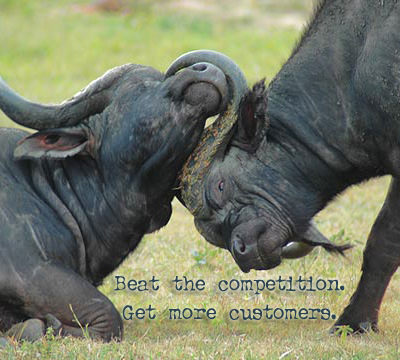 I often get asked if Apture has any competitors, and have seen many of my friends who've started companies been asked to answer this question.
I think many entrepreneurs feel a temporary and passing uncomfortable *gulp* upon hearing it, because it's never fun to answer.
If you're  trying to build a new kind of company and change the world, your drive comes from the most sincere, genuine and burning passionate fire inside of you. It's that burning passion that fuels you to drop whatever you were doing and have the guts to pursue the idea.
So for an entrepreneur, admitting that you have competitors is like admitting that your unique ideas and burning passion are the same as someone else's. Artists don't like to think that way, because the whole point is to do something that's never been done before. Artists never believe that they're just copying someone else's work.
So when the founder answers "oh, we don't have any competitors," the audience rolls their eyes. It's seen as a character flaw, because their ego or naïvité is manifesting in a failure to recognize other competing companies that could kill you.
There are always competitors. Everyone knows that you can identify companies in either a related space or ones that compete head-on. But when entrepreneurs answer the question, and they feel that discomfort, I respect their feeling that there is no one who is doing what they really do. Because there is no one who understands the vision and idea the way you do.
So what is the answer for Apture? We're  trying to accomplish something incredibly unique, and I don't believe that anyone else is working on the problem the way that we are.  I'm also aware of  more than probably a hundred companies doing related products that are sold to web publishers on similar value propositions.
Sure you could compare us to the annoying green double underlined spammy advertising guys, or search companies, or browser plugins, or "related content" companies, or "bar" companies that offer cute tools in some real estate. And as an entrepreneur, I must be dutifully aware of the features/benefits/customers/traction of each one.
But none aim to do what we do. In fact many of them in my mind are completely unrelated.
So I think there is the personal answer – "no one is doing this the way we are" – and the pragmatic one – "here are other companies working on various aspects of this problem". But I think it's important not to disqualify entrepreneurs who say "we don't have any competitors," because it's these entrepreneurs who have a vision that is vastly unique and forward-thinking from everything on the market who push things forward. Sometimes it even means that you have to be a little crazy, and keep these two ideas in your head at the same time, the pragmatic and the personal.
P.S. I was surprised last year when I noticed someone came up to me a year ago acting strangely cautious and distanced. I questioned him about it, and he said that he thought that my company was competing with him. I hadn't even heard of his company, nor did I ultimately think it was competitive when I found out what they did. It can go both ways.